Books to Help Children and Teenagers Going Through Bereavement
Milly's Bug-Nut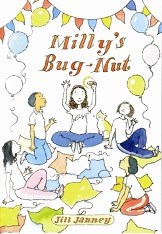 Milly knows that when people die they can't come back, not in the way we want them to.  But this doesn't stop Milly wishing a secret and very important wish.
Milly's Bug Nut is the story of a family finding their way through bereavement and of Milly who finds an unexpected answer to her heart's desire.
Muddles, Puddles and Sunshine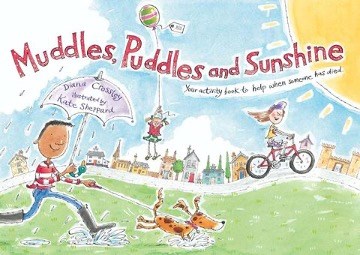 This hardback activity book offers invaluable practical and sensitive support for bereaved younger children.  Beautifully illustrated, it suggests a helpful series of activities and exercises accompanied by the friendly characters of Bee and Bear.
The book offers a structure and an outlet for the many difficult feelings which inevitably follow when someone dies.  It aims to help children make sense of their experience by reflecting on the different aspects of their grief.  At the same time, the book manages to find a balance between remembering the person who has died and having fun.
Out of the Blue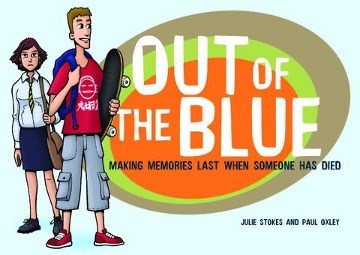 This book has been written and designed specifically for teenagers with aim of supporting them through their bereavement using a range of activities.
Narrated throughout by teenagers words and stories, the book talks openly about the real feelings they may struggle with when someone important in their life dies.  The activities in the book allow those feelings to be worked through and safely explored.  Each character in the book reinforces the message that "I'm not alone".  Out of the Blue can be completed by a teenager on their own or with the help of a family member or appropriate professional.
The Secret C
When a family member has cancer it is hard for everyone to understand.  It can be particularly difficult when a parent or carer faces the challenge of trying to explain to their child what cancer means and how it may affect their family.
This booklet is aimed at supporting parents or carers with this task, and encourages open communication and questions about cancer within the family.  Through pictures, captions and straightforward language, it explains how tumours are formed, what the various treatments are and how these may affect the person with cancer.  It stresses the need to keep to family routines and, importantly, to still try and have fun.  It is aimed at children aged 7 to 10 years and will work best when an adult is present to expand on the simple messages in the text.
I Miss You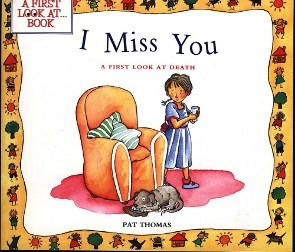 This reassuring picture book explores the difficult issue of death for young children. Children's feelings and questions about this sensitive subject are looked at in a simple but realistic way. This book helps them to understand their loss and come to terms with it.
The Invisible String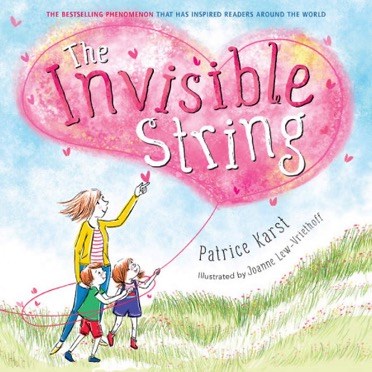 Recommended and adopted by parenting blogs, bereavement support groups, hospice centres, foster care and social service agencies, military library services, church groups, and educators, The Invisible String offers a very simple approach to overcoming loneliness, separation, or loss with an imaginative twist that children easily understand and embrace, and delivers a particularly compelling message in today's uncertain times.
When Dinosaurs Die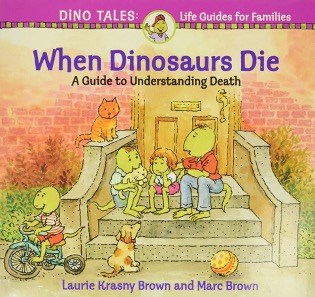 No one can really understand death but to children, the passing away of a loved one can be especially perplexing and troublesome. This is true whether the loss is a classmate, friend, family member or pet. Here to offer advice and reassurance from some very wise dinosaurs. This succinct and thorough guide helps dispel the mystery and negative connotations associated with death, providing answers to some of the most-often asked questions and also explores the feelings we may have regarding the death of a loved one and the ways to remember someone after he or she has died.
The Goodbye Book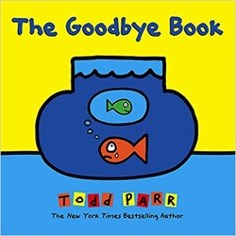 From bestselling author Todd Parr, a poignant and reassuring story about loss.
Through the lens of a pet fish who has lost his companion, Todd Parr tells a moving and wholly accessible story about saying goodbye. Touching upon the host of emotions children experience, Todd reminds readers that it's okay not to know all the answers and that someone will always be there to support them.
Badger's Parting Gifts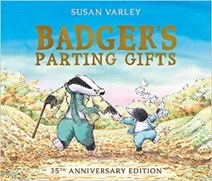 Badger is so old that he knows he must soon die, so he does his best to prepare his friends. When he finally passes away, they are grief-stricken, but one by one they remember the special things he taught them during his life. By sharing their memories, they realise that although Badger is no longer with them physically, he lives on through his friends.
The Memory Tree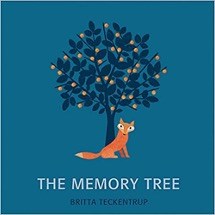 A beautiful and heartfelt picture book to help children celebrate the memories left behind when a loved one dies.
Fox has lived a long and happy life in the forest, but now he is tired. He lies down in his favourite clearing, and falls asleep for ever. Before long, Fox's friends begin to gather in the clearing. One by one, they tell stories of the special moments that they shared with Fox. And so, as they share their memories, a tree begins to grow, becoming bigger and stronger with each memory, sheltering and protecting all the animals in the forest, just as Fox did when he was alive.
This gentle story about the loss of a loved one is perfect for sharing and will bring comfort to both children and parents.
Are you Sad, Little Bear?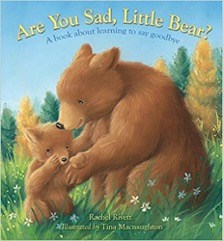 Grandmother Bear has gone for ever, and Little Bear is feeling sad. His mother wisely suggests that perhaps asking his woodland companions what saying goodbye means to them will help him understand his loss. Little Bear's day of exploring and asking questions brings him comfort and hope. For the swallows, saying goodbye means flying to warmer lands; for the leaves of the trees it is a chance to be free, leaving the tree at her most beautiful; for the moon it is to return to be with the Sun; and for the Sun it is to rise in another sky and just because Little Bear can't see him doesn't mean he isn't there. This charmingly illustrated picture book will help young children in times of bereavement, loss or change, gently exploring the reasons for saying goodbye and giving reassurance that goodbye doesn't mean the end of things.
Further recommended resources can also be found by accessing www.winstonswish.org and
References:
Link to useful worksheets: https://www.therapistaid.com/therapy-worksheets/grief/none