Best Practice
This section shares practice that has been shown to be effective and includes case studies from settings and schools.
A great opportunity for young people
to get involved with Barnardo's Education Community!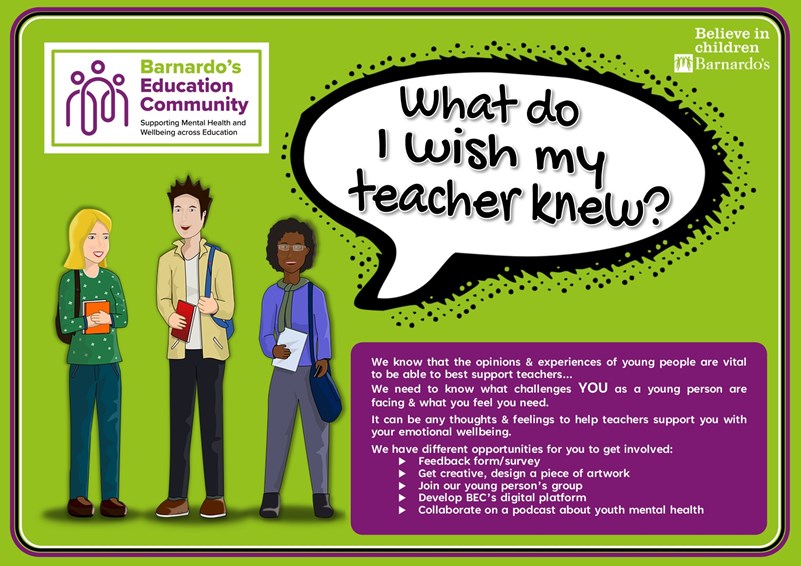 We believe that children and young people should have opportunities to have their voices heard and be taken into account when developing resources. Children and young people can provide invaluable contributions to the way we work and the content we offer at BEC.

To gain the voices of children and young people we are asking staff to consider if they know of any students (roughly between the ages of 14 and 18) who would like to be involved in one of the following opportunities:
Complete a form/survey with their thoughts and opinions

Create art, pictures, posters, lyrics, poems relating to 'what do I wish my teacher knew?'

Participating in a fun and informal digital steering group meeting with other young people (up to 6 sessions - 1 a week, limited numbers of 4-6 YPs, no dates planned yet)

Developing a space for young people on the BEC website to express/showcase these thoughts and opinions

Collaborate on a podcast voicing their thoughts and opinions (possible topics could include: 'what do I wish my teacher knew?', youth mental health, and wellbeing)

A teacher/education staff member facilitating a face-to-face group having linked in with a BEC worker (digitally)

There may be other ways for a young person to voice their thoughts (please inform us if you have any other suggestions).

Some of the incentives and motivators for young people:
The opportunity to have a voice on something they care about
Meet and work with others (young people, professionals supporting children and young people)
Develop new skills
Enhance their CV 
The action of 'giving back' or 'passing it forward' through volunteering their time

If you are aware of any young people who might be interested, please email us and we can discuss the process and possibilities of how we can accomplish this together. 

CALL OUT for Case Studies
At Barnardo's Education Community we want to celebrate your work and share effective practice. We are building up a library of Case Studies and would like your contributions that we can share in our community across the 4 Nations.
In these Case Studies we'd like to see:
how you have supported children and young people in your setting who are experiencing loss, grief, and/or bereavement
your experiences
the resources and activities you find most useful
the impact and outcomes
short clips, images of children and young people, or of any artwork, etc
* Please change any identifiable information for confidentiality reasons and consent from pupils and parents/carers/guardians to be obtained *
To send your Case Study please complete this document (attach any images/clips) and email to us at: BECommunity@barnardos.org.uk
Best Practice
All education staff will use ideas and strategies that others before them have developed and found to be effective. It makes sense to do so! There is no point in reinventing the wheel when we have evidence that specific strategies and approaches work.
Andy Hargreaves and Michael Fullan*1 share their definition for "best practices," which they define as existing practices that already possess a high level of widely agreed effectiveness.
This is one definition – there are others.
In higher education, De Montfort University*2 talks about the term 'good practice' which 'is generally defined as practice that is regarded as making a positive contribution, adding value to the provision and student learning experience and which is worthy of wider dissemination.' It can also mean 'anything that goes above and beyond standard practice or what is required to be done.'
Good and best practices could therefore encompass:
The adaptation of ideas and strategies to make them work for, and meet the needs of, different cohorts and individual children.
The innovation of new ideas that maybe address specific issues.
Ideas that have tangible positive outcomes and that can be transferred across different cohort/classes/ year groups/departments.
The role of research in education is critically important in ensuring that there is place for innovation.
Common denominators of good or best practice may be where staff:
Understand the needs of the learners.
Provide high challenge and high motivation.
Use resources creatively and flexibly.
See themselves as learners.
We would like to showcase work that schools and settings are and have undertaken in the areas of loss, grief, bereavement and trauma, together with staff wellbeing, that have been identified by you and your colleagues as good or best practices.
References:
*1 Professional Capital: Transforming Teaching in Every School, Hargreaves, A. and Fullan, M. (2012)
*2 Good Practice in Higher Education, De Montfort University, (updated 2018)