Spaces for Wellbeing Events 2023-2024
In early 2023, we collaborated with educators based in Hull and surrounding areas as part of the co-production process to develop the online events for the Spaces for Wellbeing Programme (2023-2024).
The co-production process builds a framework that is used to create a programme of online events, each around a specific theme, inviting guests from a range of disciplines to discuss solutions for staff wellbeing.
Each event features a similar format of introductions and a short presentation, followed by discussions and Q&A.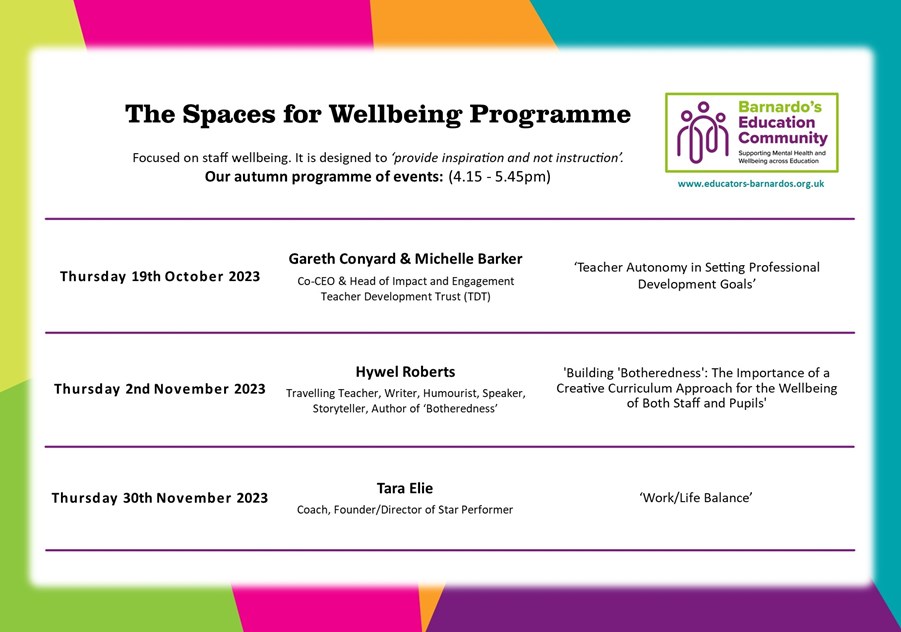 A previously scheduled November 16th date has been cancelled due to illness.

Wednesday 7th June - Jane Andrews
'Supporting Wellbeing and Valuing Diversity of Staff, Children, and Families Through Creative Practices'
Recording

Thursday 22nd June - Beth Roberts
'A Team Approach to Improving Wellbeing in Education Settings'
Recording
Thursday 19th October - Gareth Conyard
'Teacher Autonomy in Professional Development'
Recording will be available soon.

Thursday 2nd November - Hywel Roberts
'Building 'Botheredness': The Importance of a Creative Curriculum Approach for the Wellbeing of Both Staff and Pupils'
Recording will be available soon.
We will be hosting two more Spaces for Wellbeing workshops before Christmas: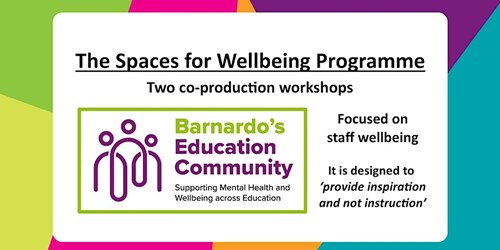 Part 1 : Wednesday 15th November 2023 @ 4 - 5:30pm via Zoom
Part 2 : Wednesday 6th December 2023 @ 4 - 5:30pm via Zoom