What do I wish my teacher knew?
We know that the opinions and experiences of children and young people are vital to be able to best support teachers.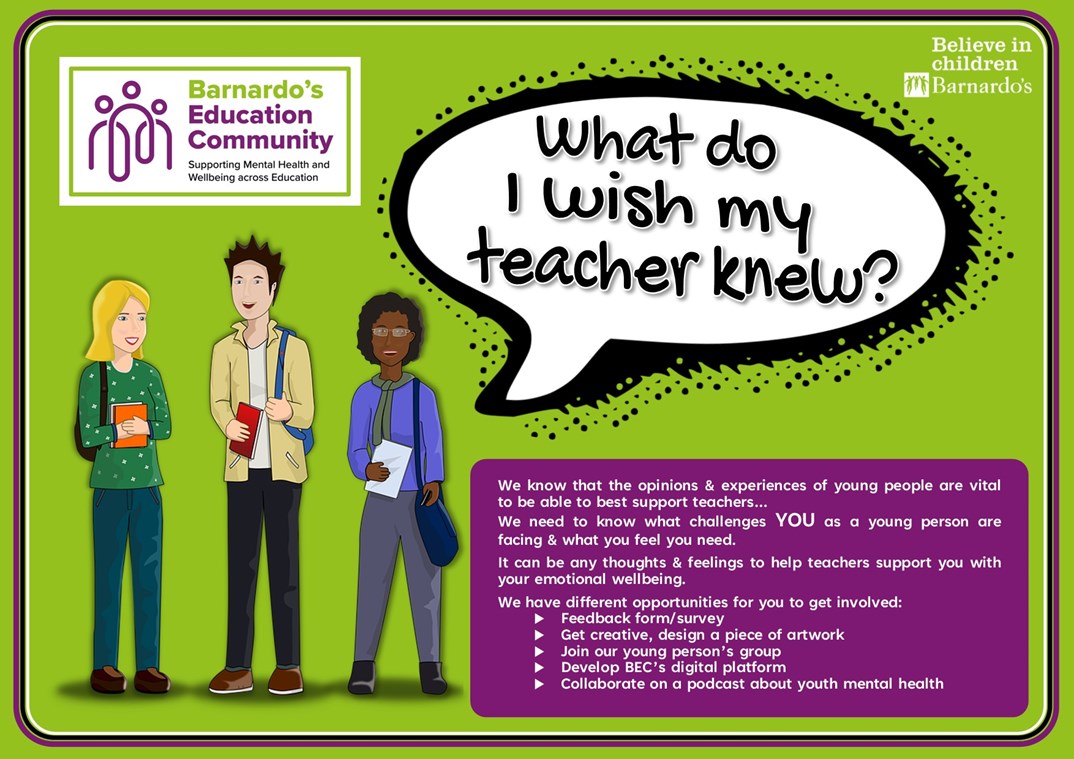 To gain the voices of children and young people we are asking staff to consider if they know of any students (roughly between the ages of 14 and 18) who would like to be involved in one of the following opportunities:
Complete a form/survey with their thoughts and opinions
Create art, pictures, posters, lyrics, poems relating to 'what do I wish my teacher knew?'
Participating in a fun and informal digital steering group meeting with other young people (up to 6 sessions - 1 a week, limited numbers of 4-6 YPs, no dates planned yet)
Developing a space for young people on the BEC website to express/showcase these thoughts and opinions
Collaborate on a podcast voicing their thoughts and opinions (possible topics could include: 'what do I wish my teacher knew?', youth mental health, and wellbeing)
A teacher/education staff member facilitating a face-to-face group having linked in with a BEC worker (digitally)
There may be other ways for a young person to voice their thoughts (please inform us

 if you have any other suggestions).

Some of the incentives and motivators for young people:
The opportunity to have a voice on something they care about
Meet and work with others (young people, professionals supporting children and young people)
Develop new skills
Enhance their CV 
The action of 'giving back' or 'passing it forward' through volunteering their time

If you are aware of any young people who might be interested, please email us and we can discuss the process and possibilities of how we can accomplish this together.